This Cafe is Run Entirely by Adults with Down Syndrome
https://n2t3de.a2cdn1.secureserver.net/wp-content/uploads/2017/03/peoplescare.jpg?time=1701480000
960
480
People's Care
People's Care
https://n2t3de.a2cdn1.secureserver.net/wp-content/uploads/2017/03/peoplescare.jpg?time=1701480000
People's Care is a firm believer and advocate for individuals with developmental disabilities being leaders in the workplace.
This café is run entirely by adults with Down syndrome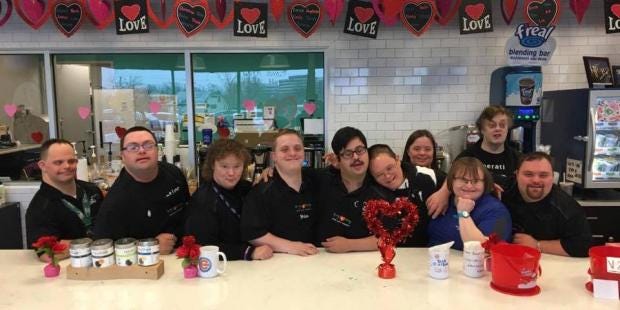 Hugs + Mugs is a café in Illinois that is unique, because it's run completely by adults with Down syndrome.
The store opened in 2014 and has a mix of coffee makers and interns who use the design studio at the back of the shop to create custom gifts sold in store and online.
Dave Luzwick, director of adult programming and job placement with Gigi's Playhouse in Hoffman Estates, said:
We think it's one of the best kept secrets in the Northwest Suburbs.
The café also sells seven different gelato flavours, milkshakes and smoothies.
GiGi's Playhouse Hoffman Estates is a training centre that provides "resources, specialised teaching, and support to individuals with Down syndrome, their families and the community".
They even offer a combination of therapeutic and education programmes free of charge.
People begin by going to two 12-week sessions at Gigi U where they study a variety of subjects including maths, literacy and public speaking.
Following completion of the program, students begin an 18-week internship at the café, which acts as a transition period after which they are ready to take a job in the community.